Birding Kansas
and (1 day each) OK and AR
April 21-29, 2008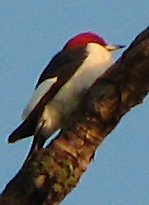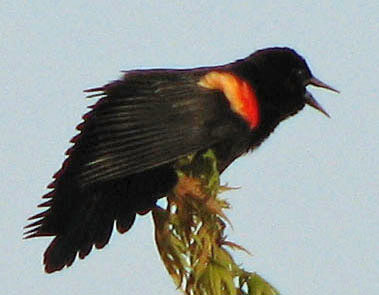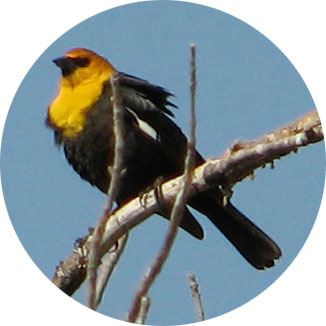 Red-headed Woodpecker

Red-winged Blackbird

Yellow-headed Blackbird
---
Other Perspectives on Species Already Showcased Above (in the order of the pictures):

A Sampling of Other Bird Species Sighted (in taxonomic order):

Multiple Avian Species in the Same Frame:

Other Wildlife:
Bobcat; from behind. Notice the bobbed tail. We saw the bobcat at 8:30 a.m. between Stillwell Oklahoma and the Arkansas state line while traveling a country road.
The only pictures I got were these two taken with the camera built into my Bushnell binoculars.
Deer. Herman noticed this. I would have missed it.
People:
Things:
---
I, Eva, the author of this page, am not a birder. My husband Herman is a birder. I personally saw (as opposed to heard) about 129 avian species on this trip. There were quite a few times Herman identified a bird that I missed. Herman got (saw or heard and identified) 154 species over 8.2 days (The .2 being driving Wichita to Great Bend 5-7pm. Monday April 21) on the ground. I got recognizable photographs of about 90 avian species, 53 of which are represented on this page. So I photographed about 70% of what I personally saw, and 41% are on this page.
---
Return to:

Trip List


Trip Report


Greater Prairie Chickens

Birding Massachusetts 2018


Birding Massachusetts 2015-2017


Birding Massachusetts 2014


Birding Massachusetts 2013


Birding Massachusetts 2012


Birding Massachusetts 2011


Birding Massachusetts 2010

Birding France 2019


Birding Phoenix 2018


Birding Ireland 2016


Birding Yellowstone and northern Utah 2015


Birding Hawaii 2011


Birding Arizona 2010


Birding Utah 2009


Birding Guatemala 2008


Birding Mexico 2007


Birding South Florida 2006


Birding Texas 2005


Birding Nantucket, annually, at New Year's


Birding Panama 2005


Birding Belize 2002


Birding Colorado 2001


Birding Ecuador 1999


Birding Trinidad 1998


Birding Peru June 1995


Herman's Birding Page

Wildlife sketches made at the Harvard Museum of Natural History.

Herman's Home Page


Eva's Home Page
---
Feedback may be sent to eva@theworld.com
---
Most of the photos on this page were taken with my Canon Digital Camera w/ 12X zoom lens.

---

This page has been accessed times since June 22, 2008
Last revised: August 8, 2019 
---