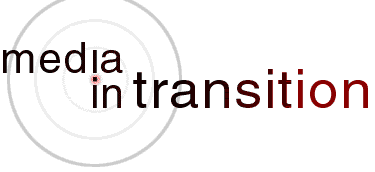 Note: This Media in Transition logo was co-designed by David Thorburn and Mary Hopper.
Communications Forum, Comparative Media Studies, MIT
Directed by David Thorburn
Purpose:
The Media in Transition Project Mission: "The goal is to sharpen our awareness of the NewMedia as a thing which emerged from history. Historically informed perspective that maps a sensible middle ground between the euphoria and the panic surrounding new media. Such an understanding of emerging communications technologies, at once skeptical and moderate is the goal of the Media in Transition Project."
Note: These summaries were written by Mary Hopper while she was Managing Editor of Media in Transition.

There is also an archive of home pages co-edited by David Thorburn and Mary Hopper on the MIT server.
http://web.mit.edu/m-i-t/archive/
The Digital Library, April 20, 2000
Clifford Lynch, Deanna Marcum, Ann Wolpert, Marlene Manoff
"Real Artists Don't Go to MIT", February 24, 2000
John Maeda
Media in Transition Conference Plenary Sessions, October 8-10, 1999
Childhood and Adolescence in a Mediated Culture, Moderated by Steven Lerman
Fairy Tales Across Media, Maria Tatar
Children, Toys, Media, Mitch Resnick
New Media and Children's Identity, Sherry Turkle
Historical Views: Children, Technology, Play, Henry Jenkins

Democracy and New Media, Moderated by Hal Abelson
Growing a Democratic Culture, Phil Agre
Citizenship and the Internet, Elaine Kamarck
Global Perspectives, Adam Powell
Internet Democracy: American Prospects, Paul Starr

Digital Books, Digital Teaching, Moderated by Peter Donaldson
Empowering Authors in the Digital Age, Bob Stein
New Media Design, John Maeda

Wiring the Classroom Conference Sessions, May 1, 1999

Stealth Bombers: Invisible Information?, April 15, 1999
Robert Zalisk

The Dark Side of Information Technology, March 15, 1999
Kenneth Keniston and Venkatesh Hariharan

Beyond the Ivory Tower: Academic Discourse in the Age of Popular Media, February 18, 1999
William Calvin, Stephen J. Gould, Alan Lightman and Lester Thurow

Covering Cyberspace, Moderated by John Driscoll, November 5, 1998

Digital Journalism, Moderated by James Carey, November 12, 1998 Digital Cities:Urban Environments and Interactive Technologies, Sept 25, 1998 Democracy and Digital Media Conference, May 8-9, 1998 Race and Cyberspace, April 23, 1998
Glenn Kaino, Tara McPherson, Erika Muhammad and Brenda Cotto-Escalera
© Mary E. Hopper [MEHopper] | MEHopper@TheWorld.com [posted 01/01/01 | revised 02/02/02]