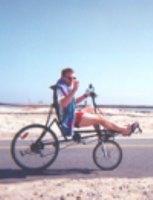 Wheel base 40"
Seat height 25"
Crank height 21"
Front wheel 16"
Rear Wheel 26"
Weight 30 lb.


This machine has over two thousand Boston city miles on it (and a few on the coast : ) Designed by Doug and constructed by Bill Darby. Not yet available in stores.
Short term goals
Build 2 more prototypes
Capture 10% of the market of readers of Recumbent Cyclist News
If the T-Rex frame succeeds, pursue a patent
Long term goals
Target people at health clubs who already expressed a preference for the Comfort Cruiser riding position.
License patent to a large scale bicycle manufacturer, becoming the first entry into the national retail bicycle market (12 million units per year).
Continue research in making bicycles a viable choice in personal transpiration.