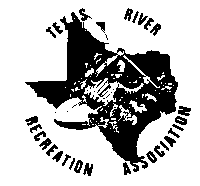 Welcome to canoeTX
In support of the TRRA,
theTexas River Recreation Association
---
---
---
Texas River Recreation Association Fact Sheet
The Texas River Recreation Association was founded in the early 1970's as the River Recreation Association of Texas (River RAT's). Over time, its size, by-laws, and areas of interest have changed several times. Today the TRRA is a coalition of canoe clubs. Presidents (or their representatives) of member clubs are on the board of directors and members of member clubs are members of TRRA. Officers are elected at the anual general meeting. The TRRA does not usually send out a newsletter, but sends out information through the internet mail list, canoeTX@world.std.com, which it co-sponsors.
The purpose of the TRRA is to promote safe paddlesport in Texas, to help conserve our rivers, and to protect our access to our rivers.
Return to TRRA Home Page
---
Disclaimer
Water sports are potentially dangerous. You are are are responsible for yourself. Get lessons. Go with a grouop. Know your limits and don't exceed them.

Return to TRRA Home Page
---