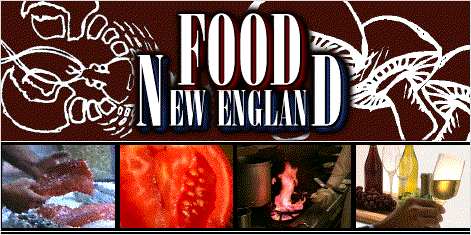 [Catalog | Home | Personalities | Wines | Recipes]
What is Food New England?
Regional Gourmet and Ethnic Foods on TV
This fast-paced TV magazine meets the hottest chefs in the region and explores new and exquisite foods. Food New England introduces you to food stories, food personalities, and our local food economy. Look below for delicious recipes, cooking tips from the pros and info on fine wines and nutrition.
The Food New England project, encompassing prime-time TV shows, an Internet Website, Home videos, live events and newsletters, was created and developed and is distributed exclusively by Roberto Mighty Productions. For more information, you can contact us at P.O. Box 1774, Brookline, MA 02146. Or you can reach us by phone, fax, e-mail or the Internet. See the list below:
Phone (617) 965-7022 Fax # (617) 965-4134 e-mail: ideas@foodne.com
---



---
1998 Broadcasts!
We are pleased to announce our exciting news for 1998. Due to unprecedented ratings, WCVB-TV Channel 5/Boston has renewed Food New England for four more Holiday Specials. Check local listings for our upcoming shows at 7:30pm on January 30th, featuring a romantic dinner created by critically-accaimed Master Chef Anthony Ambrose of Ambrosia; on March 30th, featuring a Spring feast created by Master Chef Jacky Robert of Maison Robert; our Barbecue Party on Thursday, July 3rd, featuring award-winning Master Chef Chris Schlesinger of the East Coast Grill; and this year's Christmas Special on Monday, December 21st, featuring legendary Master Chef Lydia Shire of Biba. Also, watch for news of our nationwide Public Television weekly series, hosted by Nina Totenberg (That's right. From NPR and Nightline!) as you've never seen her before.
Copyright 1995-1998 by Roberto Mighty
Food New England is created, produced and is exclusively distributed by Roberto Mighty Productions, P.O. Box 1774, Brookline, MA 02146
-all rights reserved-