The Triumph of Death
Pieter Bruegel the Elder

The title illustration for the Exploring The Waste Land site is a detail from The Triumph of Death by Pieter Bruegel (the Elder). This is an edited image from one courtesly supplied by Carol Gerten-Jackson (see below).
Quick Access to contents on this page:
The Triumph of Death by Pieter Bruegel the Elder is painted in oil on a panel. It was completed circa 1562. The painting is kept at the Museo Nacional del Prado (The Prado) in Madrid, Spain. It measures 162 cm. wide x 117 cm. high which is about 64 x 46 inches (an even rougher English measurement is 5 feet x 4 feet).
The image I use is in JPEG format and its size is 600 x 200 pixels or about 25% of the full image (800 x 575) from which I cut this detail. The detail takes up about 27 kb of disk space, while downloads of the full image can transfer more than 200 kb.
Locations where the full image can be found (last checked on 28 October 1998):
Carol Gerten-Jackson has many scans of fine art available at her website Additionally, she has many mirror sites around the world and a page from which you can find the nearest mirror website.
She requests a mention and a link to her site if you have a copy of one of her images. This is mine.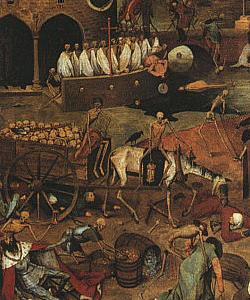 Pieter Bruegel was born circa 1525 and died in September 1569. To differentiate between him and his son, also named Pieter, they are usually referred to with the appellation "the Elder" or "the Younger." Earlier in his career he used the name Brueghel.
The subjects of his paintings vary but all contain much detail. He painted mythological and Biblical scenes; religious allegories done in the style of Hieronymus Bosch; scenes of peasant life and social satires. He is also famous for his landscapes, including mountain landscapes.
Shown here is another section of The Triumph of Death. Here we can see death by water and the rattling of bones as Death's legions harvest kings as well as peasants.

The WebMuseum has a better page about Pieter Bruegel.
The Artchive has another page about Bruegel.
Carol Gerten-Jackson's Bruegel biography (reprinted with permission from MicroSoft Encarta Encyclopedia)
Two pages of explodable thumbnails of Bruegel's works (at Carol Gerten-Jackson's site):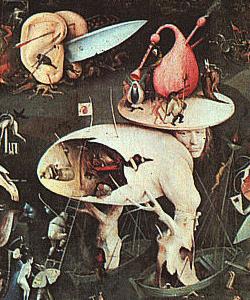 Hieronymus Bosch was born circa 1450 and died August 1516.
Also known as Jerome Bosch, this Dutch painter is known for his detailed, fantastic, often demonic imagery depicting the torments of Hell.
One of his best known works is The Garden of Earthly Delights, a triptych, of which a detail of one section is shown here.
This image is also from Carol Gerten-Jackson's site.

The WebMuseum has a better page about Hieronymus Bosch.
The Artchive does not have a biography of Bosch but it does have links (no thumbnails) to works by Bosch.
Carol Gerten-Jackson's site has a Bosch biography (reprinted with permission from MicroSoft Encarta Encyclopedia).
Three pages of explodable thumbnails of Bosch's works (at Carol Gerten-Jackson's site):
Lines 379-84 of The Waste Land are:
And bats with baby faces in the violet light
Whistled, and beat their wings
And crawled head downward down a blackened wall
And upside down in air were towers
Tolling reminiscent bells, that kept the hours
And voices singing out of empty cisterns and exhausted wells.

B. C. Southam's A Guide to the Selected Poems of T.S. Eliot has in the notes for for these lines - "According to Eliot some of the details here were inspired by a painting of the school of Hieronymus Bosch, the fifteenth-century Dutch artist."

I belive that while doing research for this site I read that Eliot enjoyed the work of Bosch but at the time it had no meaning to me. Now I cannot find the reference.






Although it would have been appropriate for me to choose a painting by Hieronymus Bosch to illustrate this site I have chosen one by Bruegel in the style of Bosch because in The Triumph of Death we can see:
A heap of broken images, where the sun beats,
And the dead tree gives no shelter, the cricket no relief,
And the dry stone no sound of water

And, while the full painting of The Triumph of Death has many scenes in it, even in this section of the painting we have images that are depicted in The Waste Land: desolation and despair, stony places, a church and a chapel, a flowing crowd ("I had not thought death had undone so many"), a hanged man, a city in the background a wheel, a bell, and, of course, death.
---
To home page of Exploring The Waste Land