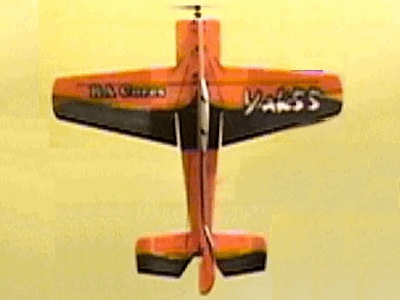 Showing all sides of the paint job on our painted kits.
(actual plane in flight extracted from video)
This version uses 6mm EPP foam is lighter than our 9mm EPP version and has floaty flight characteristics. The airframe builds about 25 grams lighter which in turn allows you to use a lighter motor (we used a 17g pancake style motor in our videos) and 350mah 2S batteries for an overall reduction of about 40-50 grams in flying weight. Lighter flies better. It is a whole different plane even though the parts are all the exact same layout. The carbon stiffens the wing and the plane has good characteristics. The EPP is forgiving but the thinner foam isn't as tolerant to bumps as it's 9mm sibling. This is a fun option for intermediate 3D practice indoors.
The link below will always contain the latest instructions which might be more up to date than the paper copy included with the kit. Plus you can click on the pictures and get large color versions to better see details.

EPP Flat Foamie Series Yak55 Instructions

The 6mm EPP Lightweight Yak55 YouTube video playlist.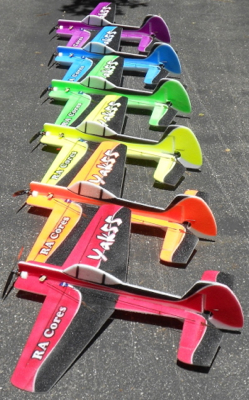 The colors available
Click to Enlarge