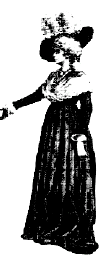 But She Never Sang for Old South
by John Dutton
---
Louise was bursting with excitement when she arrived home at 355 Boylston Street, next to Arlington Street Church. She had news for her husband Sydney, reporting that "a distinguished gentleman had come to see her at the [New England] Conservatory, quite elderly he was, gray-haired and very solemn, chairman of the Music Committee for the New Old South Church, and—you'd never guess— he'd offered her a contract for twelve hundred dollars a year, just twice what she was getting [from another Boston church] now!"1
It would be nice to think that the Old South Choir was instrumental in giving impetus to the career of Louise Homer, one of the few great and true contraltos of this century, but the fact is that she declined that offer from Old South. It must have been difficult to refuse, since a small family could live in reasonable comfort for $1200 a year in 1896. However Sidney Homer, her husband and a composer and teacher of musical theory, had just worked out a financial plan whereby they could go, along with their baby daughter, to Paris in order for Louise to study. While Americans sometimes went to Europe to start a musical career for "snobbish" reasons, Louise, having already studied in Philadelphia, New York and Boston, needed to go for more sophisticated training to help her realize the full potential of her great natural voice for a professional operatic and recital career.
And so they were soon off for Paris where, after more study with various teachers, she launched her career, appearing in France, Germany and England. In 1900, they returned to the United States and Louise began her long association with the Metropolitan Opera Company of New York and traveled extensively throughout the country, a beloved recitalist as well.
Sidney and Louise succeeded both in their careers and their parental responsibilities of bringing up six children. Sidney willingly down played his own career, when necessary, to assist Louise in achieving her goal. At times, when she felt that she was not being fair to her family by taking too many engagements away from home, she cut back on her schedule or skipped a season at the Metropolitan Opera. She had a deep religious faith, balancing a certain skepticism of religion by Sidney.
Her place in musical history is quite special. The true contralto is rare and practically non-existent today: a voice typified by deep warm textured low notes, yet capable of bursts of transcendent sound reaching the soprano heights. She is one of perhaps three contraltos who come to mind in this century _ one of three who gave the public much more than great performances, their lives being so intertwined with their art that they were quite beloved celebrities. The other two contraltos who shared Louise Homer's place in the firmament were Ernestine Schumann-Heink who was at her height of her career when Louise came along, and Marian Anderson who was beginning her career when Louise was near retirement.
No, Louise Homer didn't sing at Old South. Our organist and choir director, Gregory Peterson, who last fall appealed for more choir members, particularly altos, was only a hundred and one years late! And I won't attempt to guess what today's equivalent of $1200 a year would do to our music budget. But we can take comfort that the rest of the country heard her and Boston became a regular concert stop for her recitals and a touring stop for the Metropolitan Opera. And for the brief life of the Boston Opera House on Huntington Avenue, some of her phonograph records, along with those of the great tenor Enrico Caruso, were placed in the cornerstone of that building.
Principal source: Louise Homer and the Golden Age of Opera by her daughter Anne Homer.
William Morrow & Company, Inc. 1974 "+
---
If you would like to go back to the Reporter Contents, click on Table of Contents
OSC Publications
Copyright © 1998, Old South Church